Fore! Fordham Prep Hosts Annual Golf Outing
Fordham Prep hosted its first event since February with the Annual Golf Outing at Quaker Ridge in Scarsdale on September 21. With last year's cancellation due to weather, it seemed as though it would be until 2021 before the next golf outing. But due to the work of the Fordham Prep Engagement, Development, and Communications department and Quaker Ridge, we were able to host our first event in over six months in a socially responsible manner.
Congratulations to all the winners from the golf outing and everyone who took part. We greatly appreciate your support of Fordham Prep, our Annual Fund, and our COVID Relief program.
To catch highlights from the day, check out our photo gallery.
Prayer of the Holy Spirit Marks Official Start
Last week, the Fordham Prep community gathered together in prayer to ask the Holy Spirit to bless our students, faculty, staff, and work during this school year.
While we were unable to be with each other, as usual, in the Fordham University Church, we are grateful that we can be connected from places both near and far. We also took this opportunity to formally welcome and recognize the Class of 2024.

College Admissions Season Kicks Off
September means many things for Fordham Prep students - the start of a new school year, freshmen and new students getting adjusted to their new surroundings on campus, and seniors hearing from different colleges and universities about what they have to offer. But with the pandemic, everything has now moved online. Read More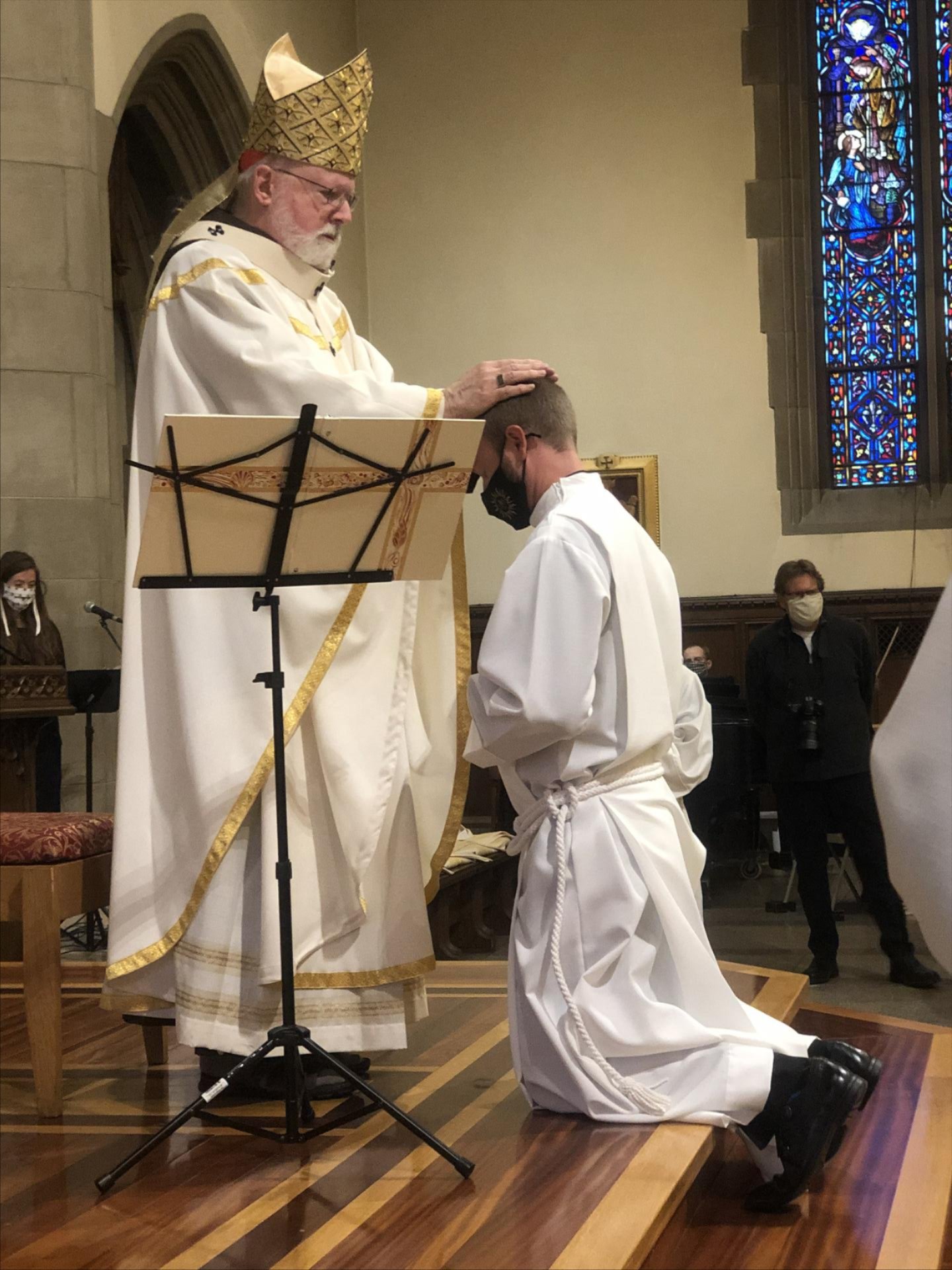 Congratulations to former Fordham Prep teacher Danny Gustafson, SJ who was recently ordained into the diaconate last weekend, moving closer towards ordination into the priesthood in 2021!
Admissions
Class of 2025 Application Opens
The application for the Class of 2025 has officially opened. Visit fordhamprep.org/admissions to find out more and to start the application process.
The New FordhamPrep.org is Here
After months of planning and design the new fordhamprep.org launched on August 17. The website is designed for and responsive to multiple device types - desktop, tablet, and mobile. If you have any questions or suggestions, please reach out to our Communications Manager Atif Lodhi at lodhia@fordhamprep.org.

(Right: a screenshot of the Fordham Prep website on a mobile phone)
Gifts of Securities
Gifts of appreciated marketable securities afford donors an attractive means of giving to Fordham Prep. Donors receive a tax deduction for the market value of the securities they give to Fordham Prep while avoiding payment of capital gains on the stock's appreciated value. For more information visit our Ways to Give page on the Fordham Prep website or contact Ann Marie Denning in the Prep Engagement, Development, and Communications deparment.
Designate Fordham Prep on Amazon Smile
Did you know that Amazon can donate a portion of your purchases to Fordham Prep? When you shop through Amazon Smile, Amazon will donate .5% of your eligible purchases to the Prep at no extra cost. To sign up or to learn more, visit Fordham Prep's Amazon Smile page.
Get Updates from Fordham Prep
As the situation regarding COVID-19 and its impact evolves, Fordham Prep will keep the community informed through our website and social media.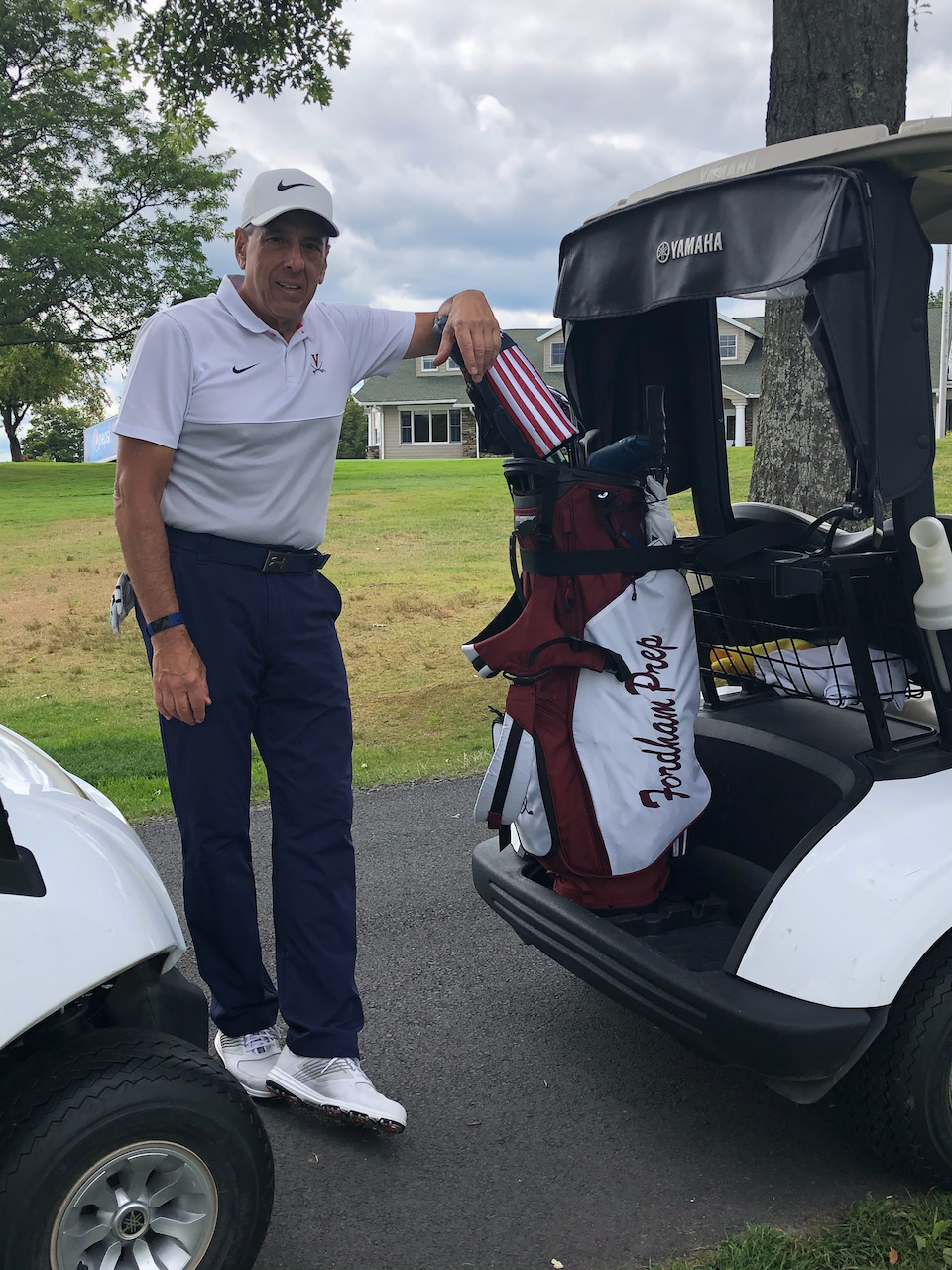 Ted Okon '71 shows off the Fordham Prep golf bag he won at this year's Igniting Our Mission silent auction. What can you expect at next year's Igniting Our Mission? Wait and find out!